Customer testimonials
'' As a family-owned Quebec company, Patrick Morin is proud to offer our customers Legerlite products that are manufactured right here in Quebec. Moreover, Patrick Morin can attest that Legerlite is a company that listens to its customers' needs. Thanks to the whole team for your great service! ''
Frédéric Rondeau
Buyer
Patrick Morin
Customer testimonials
'' We are happy with the dynamic and professional service provided by Legerlite. The products are innovative and they fully satisfy local building requirements. The quality of the products delivered to the worksites and the availability of technical representatives make a major difference. ''
David Grenier
Sales Manager
BMR
Customer testimonials
'' For more than ten years, Groupe Legerlite has been our main polystyrene supplier. Their fast and customized service fully meets our needs and those of our customers, making Legerlite a valuable business partner for USIMM. ''
Laurianne Massé
Sales Support
USIMM
Customer testimonials
'' We have in the past and for several years had very good service from Legerlite employees. The availability of products is always good and even the material on request respects a very adequate and prompt delivery. The sales staff is very efficient and the accuracy of the products ordered is always accurate. ''
Bernard Gauthier
Co-owner
RONA - Roch Gauthier et fils inc.
Customer testimonials
'' Produits Forestiers AFA is pleased and enthusiastic about our business partnership with Groupe Legerlite. In the distribution sector, offering a quality product is essential. It's even more important to have a product that doesn't cause any complaints and that we can source quickly. Also, the logistics structure is exceptionally precise. Everything is in line for us to grow together. Our business relationship is a mark of success. ''
Robert Rozon
Executive Director
Produits Forestiers AFA
Some of our projects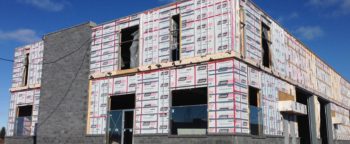 Commercial building on boulevard Lemire in Drummondville
Made with Legerclad, a rigid insulation with integrated air barrier membrane. A simple and effective solution for an airtightness and insulation system for your walls for your commercial projects.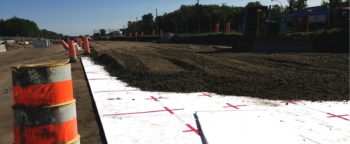 Highway 40
Installation of pavement insulation on a major section of Highway 40 in Montreal, a pledge of confidence on the part of the MTQ. GEO40, essential for ensuring the insulation of the surface in contact with the ground.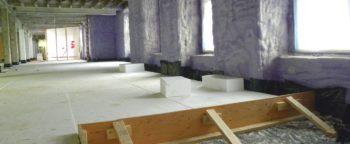 Condos M in la Montagne Montréal
Floor raising using light embankment material on an existing structure to adjust the height of the windows during a renovation project of the building.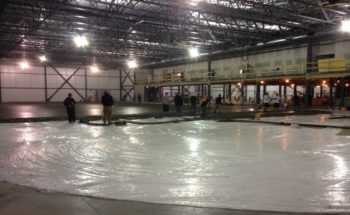 Indoor rink
Installation of rigid insulation rebated on 4 sides to ensure thermal resistance between the heating of the floor and the refrigeration of this concrete slab for an indoor rink.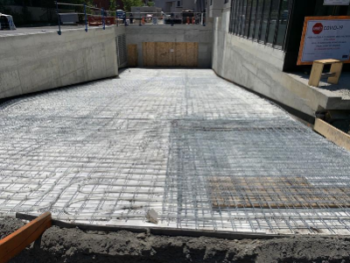 Condo VUE VII de Canvar in Côtes des Neiges
Legerlite GEO15 was used to make the lightweight fill at the street level and GEO60 high density was used to insulate the heated access ramp.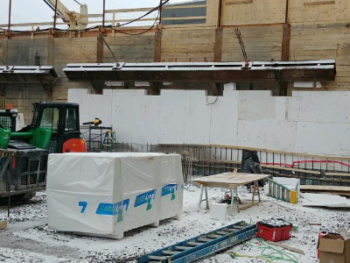 Luma, Elmvale Acres, Ottawa condo
Legerlite Geofoam EPS 15 and EPS22 was used to fill the space behind the retaining wall for this new Condo complex. A1 Carpentry was pleased that we could offer 300 mm thick block.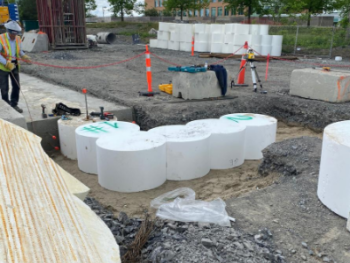 NouvLR REM Dorval Drilling guides for secant (pile) retaining walls
Legerlite drilling guides are designed and manufactured with precision for each project. Aecon used our guides in Quebec and Ontario.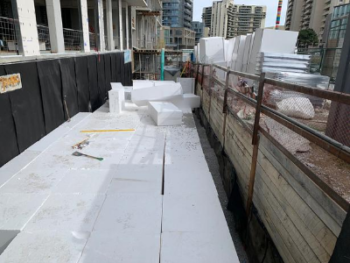 Emerald City, condos
Emerald City is a high end condo complex were Foam Concept Geofoam was used for the lightweight fill of the plaza at the street level.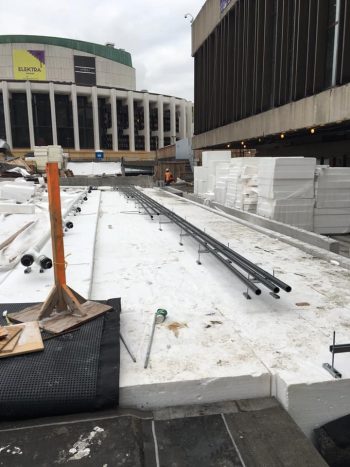 PLACE DES ARTS PLAZA
In 2018, the project managers faced several challenges during the reconstruction of the plaza. Not only did the need to create several levels, but there was also a weight restriction on the existing structural slab and assembly due to several factors including water pools. Legerlite Geofoam blocks raised to the challenge and contributed to the creation of one of the most pristine gathering places in Montreal.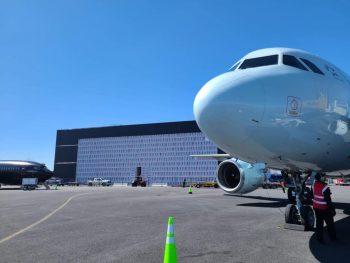 St-Hubert airport
Legerclad was used to temporarily close the door of the Hangar Chrono at St-Hubert airport, allowing indoor work to continue during the winter.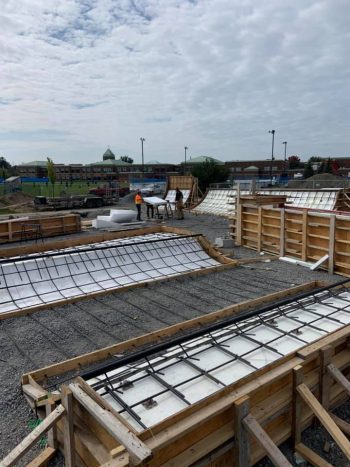 SKATE PARK AT BOUTHILLIER-LAREAU PARK IN CHAMBLY
Our large 4'x4'x9' GEO10 blocs are perfect to lay the base for landscaping project such as a skatepark.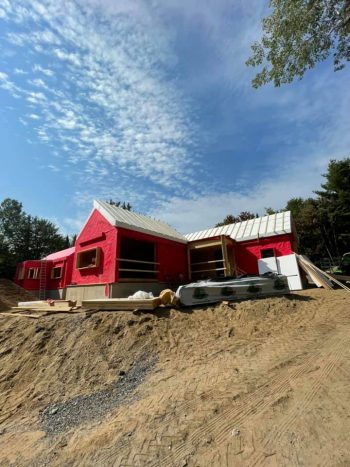 PASSIVE HOUSE INSULATED WITH AN ISULATION MADE OF 98% AIR
Opal architecture designed a passive house in Mont-Tremblant that will use 90% less energy than a conventional construction. GROUPE LAVERDURE CONSTRUCTION used LEGERLITE expanded polystyrene insulation boards (EPS) with the following thicknesses: 24cm (9.5'') on the walls and 38cm (15'') on the roof.